World-class drops meet simple, standout fare at Canberra's of-the-moment wine shop and bar.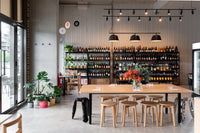 Pat Nourse, Qantas, May 2021
A new breed of attraction has popped up in the inner-city suburb of Campbell (best know as home to the Australian War Memorial) and chief among them is a lively hybrid bottle shop-bar-eatery. In Italy they call this type of business an enoteca; here, it goes by the name Paranormal Wines. And whatever the spectral connotations of that name, Paranormal's enticements are decidedly corporeal and in no way frightening.
Owner Max Walker says he's all about removing the scare factor from wine, steering the conversation away from anything intimidating and towards the pleasures of a bottle shared. To that end he's drawn on his experience working at the convivial likes of MoVida Aqui in Melbourne and local favourite Bar Rochford to create the sort of venue that's as suited to an impromptu after-work tête-à-tête as it is to a settled-in session with a table of friends. The room is spare, a box overlooking a park, its lines relieved by pot plants and a dash of florals. The real colour, though, comes from the bottles lining the walls. There's plenty to like by the glass but everything on the shelves is available to drink-in, with the addition of a corkage charge on top of the retail price.
Wines from Canberra producers - Ravensworth and Mada among them - fill the fridges along with bottles from France, Italy, Germany and Spain. Local hero Mallaluka plus Victoria's Momento Mori and South Australia's Borachio are among the wineries working directly with Paranormal on bottlings for the store. There's also a strong showing from the more interesting producers of non-alcoholic drinks.

To eat? Expect drinking food of a higher order. It's about finding very good ingredients and doing not much with them: Ortiz anchovies, bread from Sonoma, plump burrata from Vanella and super cheeses by Holy Goat. LP's Quality Meats in Sydney is another place Walker has worked the floor and its charcuterie is a highlight - plates of smoked mortadella and salami cotto, for instance, garnished with pickled peppers.

Walker says he likes to think of Paranormal as a wine shop "with bells and whistles". He adds, "The prices are reasonable and the setting is relaxed. Essentially the brief for us is to share with you things you won't find elsewhere and offer you some small plates of food to complement the experience."
---